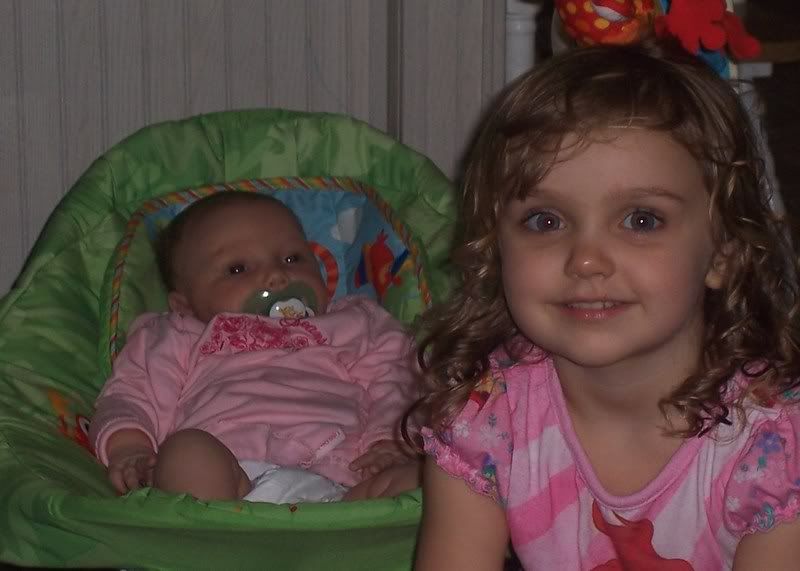 As you know by now, I love to share my randoms thoughts and I prefer the list format! SO here you go!
1. We have a big sister, not just a regular big sister but a BIG one! Tonight makes the 3rd night in a row that Lillie has slept in her bed! Now some of you are shaking your heads and wondering huh, I thought she was 3. Well she is but she has had sleep issues since her first night here upon earth. She has slept with us, slept on the floor, a mat, the couch, pretty much everywhere but in HER bed in HER room! Night before last I decided it was time, she put up very little fuss and things have gone smooth so far! She is very proud of herself and loves to tell everyone! Turns out there is nothing scary in her room,
hmmm
I thought I was right about that.
2. Little sister is doing well. She is so sweet and her cheeks get a little more round every day. She is very happy most of the time and only fusses when something is wrong. She loves to visit and had a good time visiting with Grandma and Grandpa tonight. We ate supper there and Miss Becca showed off her pretty smiles.
3. Lillie is headed off to Papa and
Nanas
house tomorrow! She is going to spend the weekend and we will meet up with them Sunday Night. She is very excited, we did not tell her till bedtime because time is a hard thing to grasp when you are 3.
4. Our family is now addicted to Homemade Granola. The stuff is good! We like it with milk, yogurt or just dry!
Yummmm
! Here is the recipe!
Granola
4 cups of Oatmeal
2 cups of chopped pecans
1 cup of unsweetened coconut
1 tsp of vanilla
1/2 tsp. cinnamon
1 stick of butter (melted)
1/3 cup honey
1/3 cup brown sugar
Preheat oven to 350 degrees. Mix all ingredients in large bowl. Pour onto to 2 cookie sheets. Stir every 5 minutes and bake for about 20 minutes or until granola is lightly browned. Cool completely and store in tight sealing container.